Obtaining a franchise loan is a little easier than it has been. But, not easy enough.
Today's small business loan underwriters are an extremely picky bunch. That's why it's important for you to have…
(All of your ducks in a row.)
Applying For A Franchise Loan
When applying for a franchise loan, it's crucial for you to walk into your franchise loan officer's office prepared.
Dress nicely. Don't put too much cologne or perfume on. Use mouthwash. Stuff like that.
But, more importantly, you must walk into the loan officer's office with an air of confidence. Not too confident mind you, but pretty confident. Trust me; your loan officer will be able to sense your confidence level.
Before I go on, I'm going to assume you checked your credit score before you started searching for a franchise to buy. Let's continue.
Check Out Your Franchise Loan Options
Your Franchise Loan Won't Get Approved
Unless you enter your loan officer's domain with a top-notch business plan on your person.
I'm serious; unless you're putting 85% of your own money down…and financing the rest, your loan officer will expect you to have a well-thought out business plan with you when applying for your franchise business loan.
I've had an affiliate relationship with Palo Alto Software for years. They offer the #1 selling business planning software in the world. Why would I want to work with #2? And, why would you want to buy something that's almost as good as…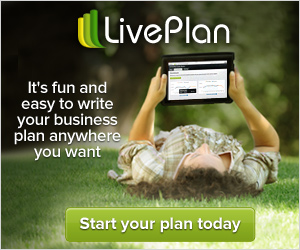 LivePlan
LivePlan is an affordable online solution for prospective franchise owners and entrepreneurs who want to create a loan officer-ready professional business plan. It's a tool that puts all of your ducks in a row.
And, once your business is up and running, LivePlan makes it easy to track what is actually happening financially in your franchise business so you can manage your new business and adjust your plan based on what's going on in the real world. Your world.
Another great thing about LivePlan is that it's in the cloud. It's easy to access from any connected browser. That means that you can log on practically anywhere there's an internet connection and work on your plan.
LivePlan is really easy to use. I tried it myself. It asks you questions about your business and you plug in the answers. The math is done behind the scenes. How does that sound?
Get Your Franchise Loan Approved
Increase your chances of getting your franchise loan approved.
Walk into your loan officer's office with a business plan created by LivePlan.
So you can open for business.