The Franchise King®, Joel Libava, is one of the most sought-after franchise experts in the United States.
As you'll see on The Franchise King® Press Page, he's frequently called on by major media outlets for his no-spin insights and opinions about the world of franchising.
Joel speaks frankly about franchising, and in doing so, helps separate franchise fact from franchise fiction.
Please contact him here.
He's the author of Become A Franchise Owner! (Wiley Publishing)
He also wrote "The Definitive Guide To Franchise Research."
The Franchise King® Press Page: Recent Mentions
A client of mine is opening a new Hand & Stone Massage franchise-and is featured in this press release
The Franchise King® releases The Top 21 Franchises To Own
Joel was just featured in Small Business Trends' 2022 end of the year review-"Best Of."
New Interview: "How Can The Franchise King Help Me?
Listen here
NTD-TV Interview On Hot Food Franchises
The Franchise King Blog Is Included In 21 Great Small Business Blogs 2022
Radio Interview On Vaccine Mandates And Franchising
ABC News Story:
Do Hotel Franchisees Have Any Clout Left?
Franchise Trends 2021, KTVN-TV Reno
The article is also featured on:
WRDE-TV
RFD-TV
SNN-TV News
Digital Journal
Financial News Today
The Times
And many other media outlets
Quoted in this Business Insider article about franchises and commercial real estate opportunities
Update! Joel's hardcover book was just named "One of the best franchise books of all time" by Book Authority.
In addition, The Franchise King® Wrote This Guide on
Researching Franchise Opportunities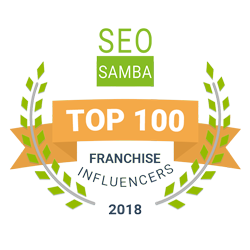 And he's an influencer in the franchise industry.

The Franchise King's Recent Press/Guest Posts/Mentions
Quoted in QSR Magazine regarding "What to Learn from the Burgerim Franchise Disaster"
I'm working with Pet Butler, helping them get the word out about their Pet Services Franchise Opportunity. Here's a recent Press Release about the business and what their plans are for 2020
And here's where you can learn more about how to become a franchise owner with Pet Butler.
Corporate Vision magazine just named The Franchise King® Best Independent Franchise Consultant – Midwest."
(Even though I'm a Franchise Advisor!-not a Consultant!)
A January 6th, 2020 Press Release: The Franchise King® Just Published The Hottest Franchise Trends For 2020
Quoted in QSR Magazine for a story about adding to your franchise portfolio
I'm The Featured Franchise Expert in this Business Insider video about the rise and fall of Subway (5 million views)
This article was just featured on the New England area Better Business Bureau Bulletin
Quoted in a Business Insider article about The Church of Chicken
Quoted in an article about Steak n Shake's new expansion plans
New eBook on Researching Franchise Opportunities Released
I was just Interviewed by Carol Roth for The Bank of America #SmallBusiness Community Website
A business writer for The Washington Post dialed The Royal Phone to ask me about the latest Chick-Fil-A political fiasco.
I was quoted in this The Washington Post story about Subway closing hundreds of franchises
This Tweet was really nice:
Thank you for all you do to help entrepreneurs and people wanting to start businesses in the franchising industry! @FranchiseKing is a #smallbiz hero! https://t.co/1p0rSkfbVR

— SBE Council (@SBECouncil) June 8, 2018
I was recently featured on the Unhappy Franchisee website.
I received a nice mention in a book review of "Small Business Hacks" on Inc.com (I wrote a chapter for the book.)
Congratulations go out to Otto Beatty, who worked with me as he researched and eventually purchased the Intelligent Office of Columbus franchise, for winning the Micro Entrepreneur of the Year award at Increase CDC's 13th Annual Entrepreneur Award Ceremony.
The Beauty Industry Report, a newsletter for executives in the industry, just featured my insights into hair care franchise trends for 2018.
The Franchise King® predicts the Franchise Trends for 2018 (From Small Business Wire)
Here's my take on the hottest franchise sectors for 2018 from Black Enterprise Magazine
Business Insider writer Kate Taylor asked me about the upcoming franchisee revolt at Subway®
The Franchise King Blog was named one of the best business blogs of 2017
A little birdie called to tell me that I'm on the cover of 4321 Startup! It's a very unique online business magazine.
I just got a mention in an Entrepreneur® Magazine article about the stark differences between the commission-based services franchise brokers/consultants offer and the services I provide to prospective franchise owners.
I'm quoted several times in Delta Sky Magazine for an in-depth article on franchising. Just click the image below!



The Plain Dealer: What does it take to succeed?




Dayton, Ohio Franchise Chains Set To Grow- Dayton Daily News
The Plain Dealer- Successful Fitness Franchise Owner Helped By Local Franchise Expert
New! The Plain Dealer Interviews The Franchise King®
My Take On A New Fast food Trend Via Entrepreneur.com
Boston.com-The Franchise King® Releases The Ultimate Franchise Course
Joel Is Featured In Entrepreneur Magazine!
Read the Entrepreneur® Magazine feature article on Joel Libava right now
The Shortcut to Owning a Thriving Business- Money Magazine®
Startup Nation- A Startup Nation Radio Interview On Franchise Ownership
Quoted In Delta Airlines Sky Magazine
Business Tips From The Top 100 Bloggers
@FranchiseKing Thanks for the #RT Joel! Your blog is great, a #mustread for every future #franchise owner pic.twitter.com/l2kmDp6H2i

— Kogneta (@kogneta) July 11, 2016
The Franchise King Blog was named one of the best small business blogs for 2016!







Tubz Vending Machine Franchise Interview On Vending Franchise Opportunities
Arizona Daily Star– Buying An Existing Franchise Business
New From Hatchbuck.com: 21 Great Small Business Blogs
Just Ranked A Top 100 Most Influential Business Blog (#19!)
Franchise Business University Launched By Top Franchise Expert
Featured As One Of The Top 15 Bloggers To Follow If You're Starting A Business
Succeeding In Franchising: Entrepreneur® Magazine
BOA Just Chose My Franchise Questions
Click My Picture (below) For Interview Clip-From The Palm Beach Research Group
Media Planet Investigate Before You Invest In A Franchise
BrightStar Care Added To Joel Libava's Franchise Directory
Entrepreneur.com -10 Questions To Ask Before Franchising A Business
Take Stock Before Leaping In The Albuquerque Journal
From Dun & Bradstreet: Top Twitter Business Influencers
The Top Franchise Gurus To Follow– Franchising USA Magazine
The Simple Dollar: 4 Businesses Kids Can Start Now
The Importance Of Hiring a Franchise Attorney
Tips On Buying A Franchise -WJCU-Radio
An Open Letter To The Mayor Of Seattle
The Franchise Biz Directory- Franchise Advertising Promotion Extended
Arizona Daily Star- Veterans Make Great Franchisees
Social Media Workbench-15 Franchise Pro's To Follow On Social Media
Top Marketing Experts Top Tips– Flyte
The Franchise King's Client Just Opened This Franchise
On Personal Branding-The Marketing Agents
Top 15 Bloggers To Follow For Starting A Business– Zen Payroll
Minimum-Wage And Franchising-Businessweek
The New York Times – Fast Food Workers Strike
Franchise Directory Gets a Makeover– PRSync
Minimum Wage Issue Franchise Know-How
Crains- The Franchise King Reigns on Social Media
Franchise Rights And Wrongs- The Columbian Online
Balancing Personal And Professional Lives on Twitter- Mashable
KIRO-TV Seattle Interview – KIROTV.com
New York Times – Small Business
Top 25 Blogs For Small Business Owners- Fit Small Business
BizBuySell- The Time Is Now To Buy a Franchise
Jumping Through Hoops – Fox Small Business News
Press Release- Top Franchise Expert Launches #Freecallfridays
The Coleman Report– The Toughest Franchise Business
Honey, I Shrunk The Store – QSR Magazine
NFIB – Top 10 Franchise Sectors
Bloomberg Businessweek– New California Franchise Bill
iNewswire- Feisty Franchise Expert Talks About Franchising's Black Hole
Consumer Affairs Blog– Franchise Pros And Cons
Bank of America – Google+ For Business
Kiplinger- Jump-Start Your Career With a Franchise
US News And World Report- Should You Buy a Franchise?
Huffington Post- The Franchise King Sounds Off About Denny's And Obamcare
Marketwatch- Mistakes to Avoid In Franchising
Entrepreneur.com- 5 Questions To Ask About Hot Franchises
M4B Marketing- On Branding
This Franchise Has Good Timing- Franchise Times.com
The Coleman Report– Slimy Franchises
Great Clips Blog- How To Get Rich in Franchising
Chris Brogan– Tell Bigger Stories
Small Biz Elevator-Interview with Joel Libava
South University– Starting a Business
Women in Business– How To Determine Franchise Costs
IFA-VetFran.com– 5 Franchise Ownership Tips For Veterans
MSN's Business on Main– Home-Based Franchise Myths
Business Insider– Managing Your Ideas
Direct Capital- Franchise Webinar Announcement
US Lawns Press Release- A Veteran-Friendly Franchise
The Plain Dealer– Own a Franchise
The Huffington Post-Businesses-Getting in Business After 50
CNBC.com– The Top 10…
Business Info Guide-Joel Libava's New Book
Free Franchise Webinars– Franchise Direct
CNBC.com– The Real Answers Come From Franchisees
How to Build a One-Person Franchise Business-Succeed as Your Own Boss
Innovation Investment Journal- #6 in The Top 20 Upcoming Start-Up Books
The Huffington Post-Joel Libava About Baby Boomers
The Franchise King® Teams up with the University of Northern Iowa
Franchise Buyers Need Franchise Lawyers
Amazing! The Franchise King® is Giving Away Free Advertising
Announcing the Judges for Small Business Influencers Awards
Joel Libava Reveals insider Secrets!– PrLog
New 10-Minute Free Service Being offered to Franchise Buyers
Watch Out For These Red Flags- AllBusiness.com
Entrepreneur.com– What Makes a Franchise Great?
Interview on Franchise Social Media w/The Franchise King- Gini Dietrich
Crain's Business-Chicago- Transitioning to an Entrepreneur
Franchising That Fits- KoKoFitClub Franchise Site
Rush Nigut Law Blog- The Franchise King; We Knew Him When...
Franchise Myths/Realities- AllBusiness.com
Ivan Walsh- What The Franchise King Can Teach You!
Smart Money- Franchising for Baby-Boomers!
WorkingNaked.com– Is a Franchise or Non-Franchise Best for You?
Chris Brogan– Map it Out
Spin Sucks PR Blog- Transforming is Better Than Changing
Swedish Blogger Interviews The Franchise King (Audio) EGO
2011 Franchise Financing Outlook- AllBusiness.com
Fox Business News– 2011 Franchise Trends
Named in The 75 Best Business Blogs of 2010- BusinessPundit.com
Inc.com- Selling Your Franchise Business
What Happens When Franchisors Make Huge Changes? –AllBusiness.com
Named a Top 100 Small Business Blogger- SoloBizCoach.com
Top 25 Small Business Tips- From The Top US Experts
5 Tools For Franchise Social Media – Social Media Explorer
Does buying a big-name franchise help? AllBusiness.com
The Great Emerging Franchise Challenge – A Judge!
The Gold's Gym Franchisee Mutiny- AllBusiness.com
AllBusiness.com Podcast- Weird and Strange Franchise Concepts!
FoxBusiness.com Interview – Mid-Year Franchise Report
AllBusiness.com– Can Entrepreneurs Succeed As Franchise Owners?
Franchising isn't just fast food- The Buffalo News
Seniors Buying Franchises– AllBusiness.com
The Buffalo News- Out of Work? Try Working For Yourself
The Rise To The Top Show Video Interview On Personal Branding
Franchise Direct UK Profile Of A King
Entrepreneur.com 7 Steps To Franchising a Business
The Plain Dealer Baby Boomers Still Starting Businesses
Crain's Cleveland News Franchises Branching Out
Joel Libava Chosen To Judge Constant Contact eMail Contest
San Jose BizJournal– New Solar Franchise Company Starts
50 Best Business Blogs Of 2009
Entrepreneur Magazine Franchise 500 Edition!-Franchising A Business
Fox Business Center Video-Interview

The Plain Dealer– Will The CIT Bankruptcy Affect Small Business?
Entrepreneur.com New Blog Cuts Government Red Tape {Business.Gov}
Kiplinger Magazine A mention in "The Prefab Alternative" story-September issue
Entrepreneur Magazine The Green Franchise Scene 7-09
Defense Media Network Choosing A Franchise

The Plain Dealer Non-Profit Buys A Franchise 6-09 {Joel put this deal together!}
Examiner.com A Winning Combination! 6-09
CoolCleveland.com Save Money-Help Community! 6-09
Small Business Trends 1st Ever Northeast Ohio Franchise-Non-Profit Business Model Launched! 5-09
The Plain Dealer Self-Employment Interest Increasing 5-09
Cleveland.com Credit Crisis Vs. Entrepreneurs 5-09
January 2009 Franchise 500/Entrepreneur Magazine

Crain's Cleveland 12-08
Wall Street Journal-Boomers Are Using Retirement Funds For Start-Ups
Named In The 50 Best Business Blogs Of 2008! 9-08
Quick Interview With Dane Carlson 9-08
The Work.com Small Business Expert Of The Week, July 17, 2008
MSNBC.com 7-08
The Plain Dealer-Blogging For Business 6-08

2008 Top Blog Posts about Franchising/Look at #1,#6,#36! 5-08

Joel's Blog Named A Top 50 Business Start-Up Blog 5-08

AllBusiness.com Adds Joel Libava As A Blogger 2-08
National Radio Interviews with Jim Blasingame