Are you looking to buy a franchise?
If so, and if you plan on getting a small business loan to start your new business, you're going to need to write a franchise business plan. You knew that, right?
Keep reading.
Thorough. Not Complicated.
Franchise business plans need to be thorough, for sure. But, they don't have to be complicated.
Tip: Put yourself in your bankers shoes. You need to get inside your banker's head. You really need to see what it is they're looking for in a business plan, so they can approve your small business (franchise) loan.
In other words, would you loan "you" the money needed for a franchise business? How can you sell someone else on your business plan if you wouldn't approve a loan for yourself?
The Thing That Continues To Amaze Me
There are people who are looking to buy franchises right now-people who are getting really close to writing a sizable check to a franchise company, who haven't written their business plans. Here's why…
They Think It's Too Hard
Or
---
Work
With The Franchise King®
---
They Don't Feel They Need One
Franchise Business Plans Don't Have To Be Complicated
It's not hard to write a business plan for a franchise business. It does take time, though. And, it needs to be thorough. But, it's a lot less complicated to do than you think.
Here's what my friend, Tim Berry-an all-around great guy, and the Emperor of the modern, Lean Business Plan says about business plans-and what needs to be included in them. (Courtesy of SBA.gov)
You'd think it would be obvious, but the business plan is supposed to be whatever it needs to be to solve the business purpose. For example, only very few business plans ever have to be documents – well formatted and carefully presented – to back up an investment pitch or loan application. While those uses exist, the vast majority of business plans need to be not pretty documents, but rather specific collections of lists, such as objectives, focus, tactics, specific activities, specific responsibilities, deadlines, performance expectations and so forth. They can exist in different formats and live on a computer, or a network, where multiple people can access, use and contribute to them.
Important: Today's business plans can and do live on computers. That means they're accessible 24/7. They can be tweaked as market conditions warrant.

LivePlan was created for just that purpose. It's a true "Business Plan In The Cloud." (LivePlan was created by Tim Berry)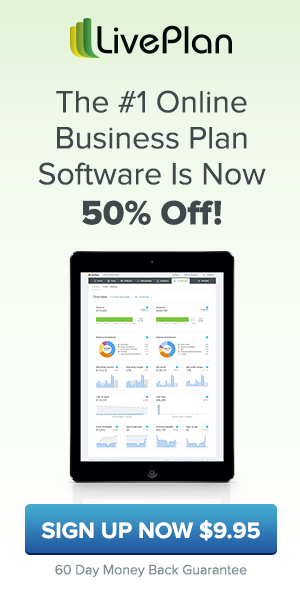 Software like LivePlan, makes writing a formal, powerful franchise business plan simple. So, remove the "It's too hard to do" excuse from your vocabulary. Really. You can do it.
Do You Really Need A Franchise Business Plan?
One of the questions I include on the Free Franchise Quiz I created several years ago has to do with business plans. When I added it to my quiz, I didn't think it would have the impact on me that it has.
This one:
"Are you prepared (with help if needed) to write a formal business plan to present to a lender for a loan?"
As for the answer, I give my quiz-takers 3 choices.
Yes, I know that I'll need a great business plan in order to obtain a small business loan
No-I don't think I'll need one
Maybe-if it's proven to me that I really do need to take the time to do one
#2 and #3 are the most popular answers chosen. Only around 20% of the folks who take my quiz choose #1. That's really frightening. It's made a big impact on me. It's forced me to be even tougher on my clients regarding the importance of submitting a formal franchise business plan to a bank.
Why Banks Want Formal Business Plans
I'm going to show you why banks want business plans.
About halfway through the writing of my book, Become a Franchise Owner!: The Start-Up Guide to Lowering Risk, Making Money, and Owning What you Do
, I decided to call on a few of my small business friends and colleagues. I wanted to make sure my readers received every bit of information they needed to make an intelligent decision regarding franchise ownership.  Tim Berry was one of them. Here's part of what he contributed to my book.
When a bank asks for a business plan, the bank wants a document that's a convenient summary of the key points of the business. That includes highlights like what you sell, into what markets, through what channels, with what sales and marketing strategies. Also who's in charge of this business, and what experience the people in the team have.
But most of all, with a business plan for a bank, they are looking for stability, reliability, and responsibility. They want to see a good credit history, both business and personal, and assets to cover loans and reduce risks.
It's Not Hard To Write A Franchise Business Plan
Seriously. It's not hard to do. It's not that complicated. It's one of those things that just needs a start. You need to sit down, open up the software, and start it.
You may find that you won't be able to stop until it's been completed.
The person who wants to lend you the money for your franchise business is waiting.
So do it.
Note: When you buy through links on our site, we may earn an affiliate commission.